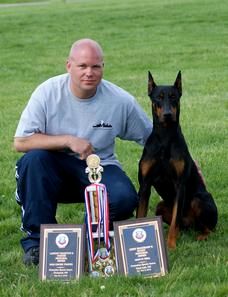 Scott takes pride in his role as the Mid-West Assistant Director and Emeritus Decoy with the Protection Sports Association. Scott has won multiple PSA titles with his own Dobermans, Caesar and Louie.
Scott first became interested in Police K-9 training while proudly serving his country in the United States Army in the 505th Parachute Infantry Regiment, 82ndAirborne Division. His time in the military taught Scott the importance of discipline, hard work, and effective communication. These lessons are integral to Scott's dog training philosophy.
After being honorably discharged from the Army in 1999, Scott returned to Cincinnati to pursue his lifetime dream of working with dogs. He began his career as a dog trainer by apprenticing under a Master Trainer. Scott gained experience in all aspects of dog training, including obedience, patrol and detection work. After a few years, Scott became the manager and head trainer of the dog training facility. In addition to running the school and training dogs and their handlers, he was also responsible for training all new staff and kennel personnel.
In 2010 Scott became the Head Trainer at the Pet Athletic Club. He specializes in aggression problems, advanced obedience, behavior modification, police dogs and personal protection dogs. Scott is responsible for training all new trainers, developing new programs, and managing the board & train program. He and his Business Partner Ellery took over the company in August of 2019. They are always looking for new ways to improve the PAC to better serve PAC Members.
.